How To Lead: Hear how organisations from a variety of sectors have and are continuing to lead in this new world' and how you can do the same.
Hear how organisations from a variety of sectors have and are continuing to lead in this new world' and how you can do the same.
About this Event
Join us for the third and final session of our 'How to' series, where we are joined by experts from a variety of industries who will be sharing their experiences and opinions on how we can lead most effectively in this 'new world'.
Covid-19 has changed almost every aspect of our lives; from the way that we work, to the way we travel, to the way we socialise. Businesses, regardless of size and sector, have also been affected, challenging the way that we innovate, collaborate and lead.
Are you looking for new ways to lead your team in this 'new world'? (working culture and working enviroments) Our How To: Lead Panel Discussion is essential for businesses who are looking to get ahead of their competitors and create sustained growth.
In the 'How to:' series, we shall be hearing from a variety of speakers sharing unique case studies, perspectives and learning points from the last year, and how they are planning to move forward as the prospect of returning to normality increases.
Have the opportunity, following the presentations, to share your thoughts and ask the panelists your questions, expanding upon their experiences and understanding how we can lead more effectively, confidently manoeuvering your team and your business through this difficult time.
Speakers & Panellists: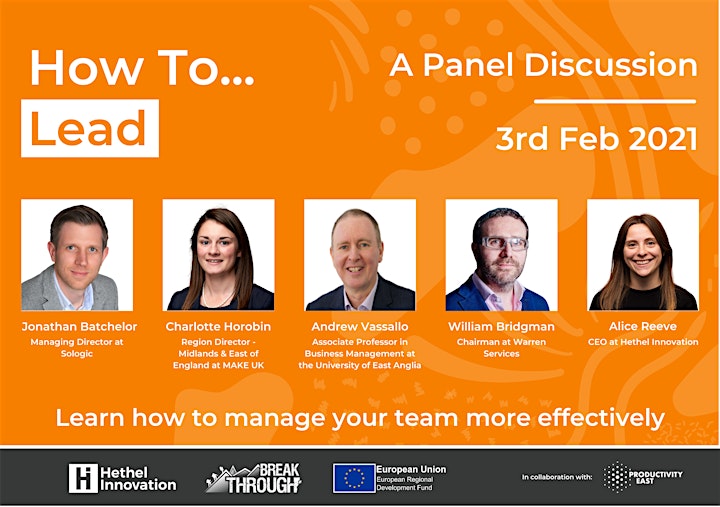 Jonathan Batchelor - Sologic
Charlotte Horobin - MAKEUK
Andy Vassallo - University of East Anglia
Will Bridgman - Warren Services
Alice Reeve - Hethel Innovation
Session Agenda:
Introduction & Speaker Presentations
Q+A & Panel Discussion
Who Should Attend:
Team Leaders
Product Managers
Independent Business Owners
SME Decision Makers
Public Sector Representatives
Students & Researchers
What Will Be Covered:
How different sectors and organisations have innovated during Covid-19.
Best practice and tips for leading in this 'new world'.
Overview of funding available to allow you to lead.
In Collaboration With Productivity East:
Productivity East is a new regional hub for engineering, technology and management opening in early summer 2021 based on the University of East Anglia campus.
Businesses will work collaboratively alongside world-class researchers and students to discover practical solutions to current and future challenges. Productivity East will be a leading training hub, combining industry and academia, to provide new skills for business leaders and employees.
Together students, academics and businesses will explore new ideas to develop prototype designs, create innovative products and services and devise solutions to manufacturing and productivity challenges.
A regional centre, Productivity East will work with partners to upskill the workforce, retain talent and enhance regional growth. Learn more here.
Hethel Innovation is an EU-funded business support organisation, providing support to Norfolk and Suffolk's business environment to innovate and become more productive and competitive as a result. Hethel Innovation also provides incubation services through Hethel Engineering Centre and Scottow Enterprise Park.
We think you may also find this interesting: 10 Essential Leadership skills for changing times