Management strategies: how to reinvest in your business
NatWest Business Builder
30th Aug 2021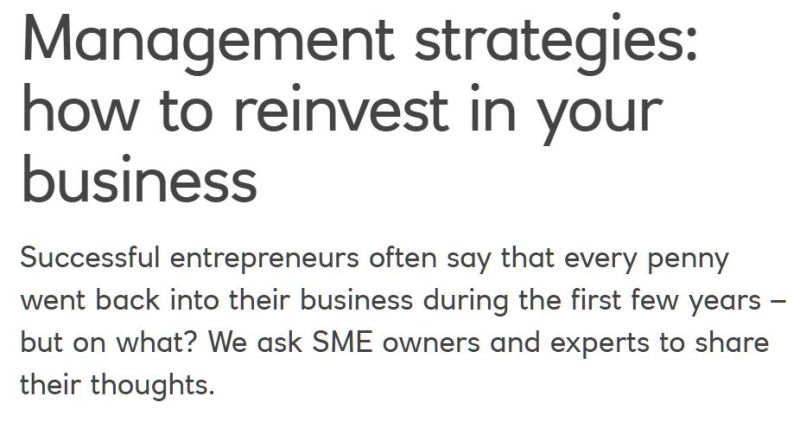 Successful entrepreneurs often say that every penny went back into their business during the first few years – but on what? We ask SME owners and experts to share their thoughts.
Sally Fielding, founder of holiday lettings company Sally's Cottages.
Ed Challinor, CEO and co-founder of cosmetic dental practice Smileworks Liverpool, knows exactly how much it costs for a shiny new Audi R8. He also knows what it costs to buy a specialist scanner that identifies nerves and blood vessels and helps to reduce failures in implants and restorative work. Each costs around £100,000, and while Challinor might have liked to invest in a luxurious German car, he chose the scanner.
"Your small business is not your cash cow," he says. "If you want to grow, then all of your available profit should be reinvested into marketing, sales, customer acquisition, redesigning your processes and bringing in new income streams."
Smileworks is doing well, having gone from a single couch offering facial aesthetics at the end of 2013 to nine treatment rooms and a staff of 21 today. Challinor says that, some months, revenues can top £170,000, with monthly net profits ranging from £25,000 – £90,000, and yet he insists that he and his co-founder, MJ Rowland-Warmann, take salaries of less than £2,000 a month.
Like many a successful entrepreneur before them – including American billionaire Warren Buffett, who reinvested profits from a pinball hire business into buying more machines when he was just 17 – the Smileworks founders are dedicated to growing their business and say that investments totalling £200,000 have led to a hike in margins from around 5% to 60% during busy months. Proof, it could be argued, that an owner would be mad not to pump money back into a business when it's working.
Successful scaleable model
"If you can recruit customers and keep them, then you have a successful business model," says Parry Jones, chief operating officer of growth experts The Specialist Works. "You know you have a successful model that you can scale."
Every business's initial challenge, he says, is attracting its first few customers – but once you've got some momentum, attracting the next set of customers is usually easier. "However, in order to scale, you have to reinvest your profits," he says.
It's a concept not lost on Rune Sovndahl, co-founder and CEO of domestic service providers Fantastic Services, who says that he and his co-founder made a pact when they started the company in 2009 to always reinvest 80% of their profit on growth. It seems to be paying off, as the business now turns over more than £32m and has expanded to 500 employees.
Parry Jones, COO, The Specialist Works
Bryony Thomas, founder of consultancy Watertight Marketing, likens reinvesting in your business to "delayed gratification" and says that she has chosen to reinvest all of her profits – and even an inheritance – into her company to create something scaleable. "If I let the money I could earn today (as a marketing consultant) distract me from bigger money tomorrow, I would never go beyond my current earning potential," she says.
Big businesses reinvest their revenues, too, especially in the early years. "Look at Silicon Valley," says Jones. "It's almost as if a lot of the companies are purposely trying to avoid making a profit because everything is going back into growth."
Crossroads led to reinvestment
At a slightly less stratospheric level, Sally Fielding, founder of holiday lettings company Sally's Cottages, found herself at a crossroads about five years into her business journey when she and her husband (and co-director) Robert were each making around £15,000 a year. They had reached the point where they needed to decide whether to continue with this "fairly easy" life or to grow the business – but doing so would require a £20,000 investment on a computer system. "We decided to go for it and everything we had went into that computer system," says Fielding. "It was a massive deal for us because we didn't know if it would work out."
"Your small business is not your cash cow. If you want to grow, then all of your available profit should be reinvested"
Ed Challinor, CEO and co-founder, Smileworks Liverpool
Being able to offer a live-booking system back in 2008 put the young company ahead of the curve, and it flourished as a result. Back then it had 30 cottages on its books; today it has more than 450.
Fielding's desire to keep reinvesting in her company hasn't faltered. "We could pay ourselves a big dividend, but I'd rather keep it in the business," she says, explaining that the growth created by their computer system in 2008 enabled them to hire their first employee, which in turn meant that Fielding could find more cottages. Growth from that funded a second employee, freeing up Fielding to concentrate on marketing. And so it continued: today the business has a team of 23, and has just spent a hefty £250,000 on replacing the once state-of-the-art computer system that was so instrumental to its success.
For small business owners who still aren't sure where their profits would be best spent, Fielding says there is one very obvious area to begin: "Invest in people," she says. "I would put those first profits into hiring staff, because when you do that, you suddenly have time to expand your mind." And, she says, you will start seeing other areas of your business that you can focus on which will lead to even more growth.
Five (almost) fail-safe areas to reinvest in
Parry Jones, COO of The Specialist Works, shares his thoughts:
Customer acquisition: "If you can recruit customers, profitably, you have a scaleable business."
Customer retention: "Existing customers are your lifeblood, and maximising lifetime value is key to your long-term success."
Launch a customer-get-customer programme: "There is no better way to grow your business than when customers do it for you."
Data and insight: "Understand exactly what is driving your business, scale what works, stop what doesn't."
Talent: "Don't skimp on staff. The best talent pay for themselves many times over."
Download the Financial Management Workbook here
'Want to learn more? Register for NatWest Business Builder to view all of their business development tools. Click HERE'