Why It's Never Too Late to Be a (Mature) Entrepreneur
Kathy Ennis, LittlePiggy
30th Aug 2021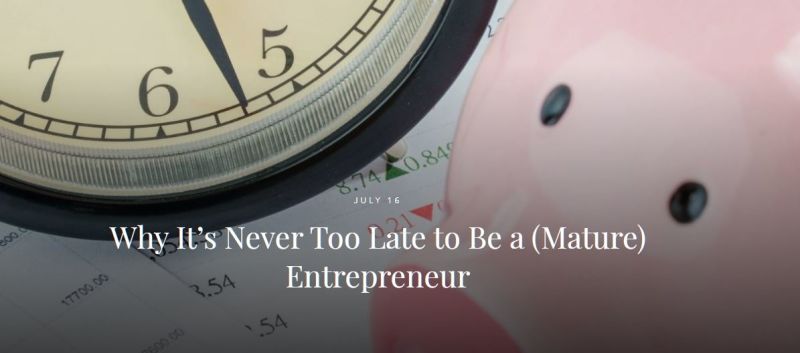 "I'm 29, so have I left it too late to be an entrepreneur?"
I saw this question recently when I was searching for something on Google. It made me take a deep breath and laugh because I am someone who started their first business at 40+. So, I felt the need to say out loud: "No, sweetheart, you definitely have not left it too late to be an entrepreneur!"
I'm a 'Maturepreneur' Business Mentor who works with freelancers, solopreneurs, and side-hustlers of all ages, helping them transform their big ideas into brilliant, profitable businesses.
But, because I choose to work with one-person businesses, people often make the mistake of assuming all my clients are thrusting young things… bright-eyed, vibrant millennials and Gen Z-ers who have the passion and energy to strike out on their own.
Heaven forbid you might want to start a business in your 40s. Meanwhile, if you've committed the heinous crime of being over 50, then isn't it about time you donned a cardi and put those weary feet up with a nice cup of tea?
You Don't Have to Be Young to Start a Business!
Despite the global media's obsession with Silicon Valley whizz kids, it's a myth that all new businesses are started by dynamic youngsters.
It's a myth that most new businesses are started by dynamic youngsters.
In fact, the majority of UK entrepreneurs are in their 40s. The average age of new business owners is rising steadily year on year. According to the latest Global Entrepreneurship Monitor, "entrepreneurial activity among the over 50s has risen by more than 50% since 2008."
We maturepreneurs aren't just starting businesses, either. We're busy turning them into success stories. For example, 70% of businesses started by the over-50s are likely to survive for at least five years. This compares to 28% of businesses started by the under-50s.
I'm not knocking youth in any way.
Young people have lots of offer entrepreneurship – they're often enthusiastic, willing to learn, and tech-savvy.
I just think it's high time society started to appreciate the immense value that older people can bring to the business table too. From life experience and self-knowledge to specialist skills that have taken decades to perfect.
Why Start a Business When Your are Over 40 (or 50!)?
There are all kinds of reasons why you might not be ready to start a business when you're young.
It takes serious guts to turn your back on the 9-5, and if you're not doing that armed with years of hard-won experience under your belt, going it alone can feel much more terrifying.
I was an overnight success all right, but 30 years is a long, long night.
Ray Kroc, Founder of McDonald's
Ray Kroc spent over 17 years working as a salesman when in 1954, and aged 52, he sold 8 milkshake mixers to Dick and Mac McDonald. The brothers were running a small burger restaurant together. Ray saw an opportunity to turn their simple, high-quality menu into a nationwide success.
With the brothers' agreement, Ray founded the McDonald's corporation in 1955. By 1958 McDonald's had sold its 100 millionth hamburger.
Ray came equipped with plenty of imagination. All those years he spent at the sharp end of selling to lots of different businesses turned out to be a gift. Not only did they help him spot the vast potential in McDonald's, but they also taught him how best to realise it.
Successful businesses are started by founders who spent years honing specialist skills and knowledge… like the brilliantly named Yes Yes Yes Company, which makes plant-based intimate lubrication products.
The company's co-founder, Suzi Lennox, was in her late fifties when she decided to go it alone. She had been working at Pfizer when Viagra was launched, then spent the following years in Drug Safety divisions for pharmaceutical companies.
All that direct experience meant Suzi not only understood the need for her new company's products and how to create them, but how to bring them successfully to market!
How to Start a Maturepreneur Business Yourself
It could be that your own route to maturepreneurship begins by accident (like mine). My clients start working with me because they've been made redundant, or been 'persuaded' to leave their jobs. Many say "It's now, or never!"
With extra time on their hands, they've suddenly spotted a business opportunity using their experience, or from a hobby.
If that describes you, but you've got no idea how to turn your brilliant idea into a business, the good news is there's plenty of help available.
Sites like Enterprise Nation offer a wealth of support to new business founders of all ages. While The Start-Up Loans Company has been busily helping founders in their 50s and over with low-interest loans.
So, to summarise, it's more than possible to be a success in business, regardless of your age.
NO, you haven't left it too late to become an entrepreneur!
If you'd like to discuss turning your own ideas into a profitable business, I can help you formulate a plan of action that draws upon over 20 years of personal 'been there, done that' experience.
Schedule your complimentary, half-hour Breakthrough Session now.