8 Proven Ways to Grow and Scale Your Solopreneur Business
Kathy Ennis, LittlePiggy
30th Aug 2021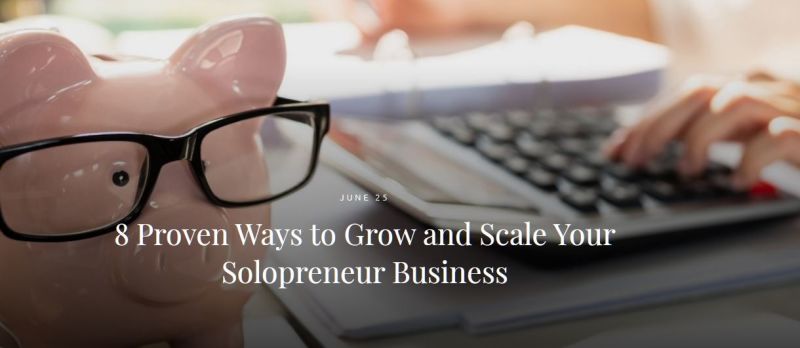 If you're a Solopreneur, then the chances are you enjoy all the thrills and spills that come from going it alone in business. (The clue's in the name… 'solo'-preneur!) But there comes a time when you want more … time, money, clients, recognition. What do you do then? How do you scale a Solopreneur business – when your business is just you?!
Solopreneur
/ˌsəʊləʊprəˈnəː/
noun
a person who sets up and runs a business on their own
As a Business Mentor who is a Solopreneur, and someone who's been there, done that, and wears the T-shirt to prove it, I understand how exciting it feels when you take charge of your business destiny.
But I also know how it feels when you hit a plateau.
So, let's go back in time for a moment.
You bravely turned your back on the 9-5 and launched your business in a blaze of glory. Armed with a brilliant idea and a bucketload of passion, you weren't sure if you'd be a success or a failure… but you were determined to give it a good go!
Now, after a LOT of hard work, late nights, and missed catch ups with friends, you're the successful Solopreneur you always dreamed about being.
As such, everything is ticking along just fine – but that's not good enough anymore!
It's time to take your business to the next level.
But if you're anything like I was at this point, you'll have identified three issues.
One: you're not exactly rolling in cash
Two: you don't want to give up that precious freedom you've worked so hard for
Three: you never want to hire and manage staff
Here's why scaling your Solopreneur business for growth doesn't have to mean investing piles of money you haven't got… or building a world-dominating empire that means recruiting vast teams of people.
So, want to know how you can grow and scale your Solopreneur business? Here are eight proven ways that keep you solo and firmly in the driver's seat.
1. Outsource
You know those jobs you hate, but you keep on doing because it's YOUR business?
Things like writing and scheduling endless blog and social media posts, managing your business accounts, and making sure your website is up to date.
Outsourcing to professionals who love the jobs you hate will give you time to work on a plan that focuses on growing your business, rather than dealing with distracting day-to-day tasks.
(Let's be honest, it's also likely those pesky jobs will be completed to a higher standard than if you'd completed them yourself!)
2. Invest in a CRM
Growing and scaling a business effectively means getting organised.
Investing in a CRM (Customer Relationship Management) system will help you manage your customer data in a way those paper lists and Excel spreadsheets just aren't capable of.
With a CRM you will be able to store messes of data such as, user behaviour, how long a customer has been with your business, purchase records, and notes on sales interactions, which you can use to optimize your sales and marketing processes and improve customer service across your organization.
customer behaviour
how long a customer has been with you
how often a customer contacts you, engages with you or buys from you
purchase records
notes on sales and interactions
With all this information you will be able to make informed decisions which means you which you will be able to optimise, automate and streamline your sales and marketing processes. This will help to improve your customer service and increase your sales.
Both essential if you are looking to grow and scale your Solopreneur business.
There are lots of CRM options available. Two of my favourites are the freebie from Hubspot's and the really cost-effective one from Capsule.
Make sure you do some research into the best CRM for your business.
3. Productise Your Business
Don't worry if you don't know what 'productise' means!
It's a word I made up to describe how you can make tangible 'products' to sell when your business usually involves exchanging time for money.
The problem many service-based Solopreneurs face is how to grow and scale their business when – essentially – they sell time for money.
If you're a Coach, a Consultant, a Personal Trainer, a Therapist, a Copywriter, an Accountant etc it may seem that the only way you can scale up is to work more hours, charge more per hour / per project or to bring in a partner or staff.
Any one of those things will change the nature of the business you have built and love.
But there is the option to 'productise'.
An example of the introduction of physical products could be that of one of my clients, She is a massage therapist; a hands-on, treatment-based business. Because she can only physically work with around six people every day, her turnover is limited. Limited by the number of hours per day and the number of days in the week she works.
However, if she 'productises'; selling sleep masks, scented candles, or pillow sprays at the consultation or via her website, she can increase her income.
[BTW: I think she should increase her prices too]
But what about if you don't have the kind of business that would work easily alongside additional products like these?
You could:
Create a course
Write a book
Have a subscription-based Group on Facebook
Work with a group of people rather then one-to-one (one hour x 10 people is more cost-effective than 10 people x 1 hour each!)
If you want ideas about how you could Productise your business, let's talk
4. Automate Tasks
The less you have to do of the daily grind, the more time you will have to spend with the customers who pay you – and more customers means business growth and scale.
This is why automation is a godsend for any business. It takes repetitive tasks off your hands, seamlessly running them in the background for you!
Do some research into the tasks that could benefit from automation in your business. For example, you could set up an automated email series for people who sign up to your mailing list, invest in an accounting software package, automate your customer appointment bookings or pre-schedule social media posts for certain days of the week.
Every five minutes you don't have to spend on these tasks is five minutes you can spend with someone who pays you.
5. Maximise Your Email List
If you haven't built an email list yet, why not?
Here's a guide to getting going with building your list
The return on investment for email marketing is estimated at £42 for every £1 you spend – and since some platforms (like Mailerlite) are free to start with, you may not even have to spend that!
Entice people to sign up to your list by creating an enticing lead magnet (check out the ones I have included on my Business Toolkit page), then use your subscriber data to send targeted messages with information and offers they'll appreciate.
6. Build Your Personal Brand
Far more than just your logo, your personal brand encapsulates everything people see, hear, think, and feel about you and your business.
Your personal brand is built around your values – so make sure you understand what these are, and how best to explain them to your customers.
If you struggle to define your values, you could start by thinking of five words that best describe your approach to business (fun, confident, reliable, etc.!)
7. Spend, Spend, Spend
OK, I might have got a little carried away.
But there's no escaping the fact that a successful business costs – as well as makes – money.
The secret is to spend wisely, on the tools, tech, and expertise you'll need to facilitate successful business growth.
This includes outsourcing and automation, plus marketing, memberships, and training to keep your skills fresh (and your business competitive.)
8. Review and Reflect (With a Helpful Mentor!)
It's no secret that planning is an essential ingredient for success (I call it the link between passion and profit!)
But there's no use coming up with a brilliant business plan… that you never look at again.
You'll only know if things are going according to plan – and how you can adjust your goals for future growth, if you review and reflect on your results.
As a highly experience Business Mentor who specialises in working with one-person businesses, I will help you get to grips with what really matters, so you can roll up your sleeves and get stuck into those plans for the growth and scale your Solopreneur business deserves.
To find out more book a half-hour, complimentary Breakthrough Session now.