Norfolk Officially the best place in UK to learn as an adult
Norfolk County Council
30th Jun 2021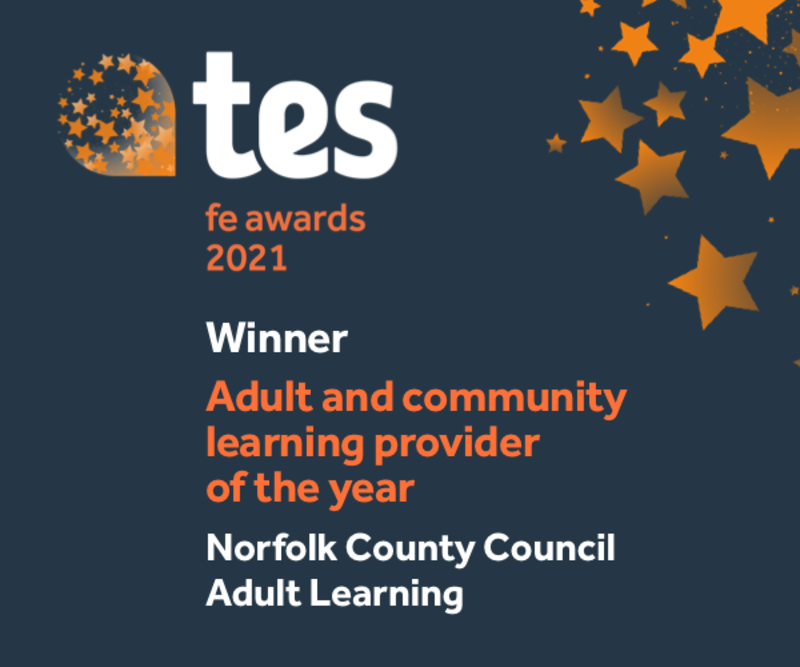 We are delighted to have been named the UK's leading adult education provider taking home the Adult and Community Learning Provider of the Year award at the Tes (Times Educational Supplement) Further Education awards, often referred to as the 'Oscars of education'.
Denise Saadvandi, Head of Service said, "I have never felt so proud of this fantastic service, the total commitment and dedication of our staff and tutors to our service and learners has led us to achieve great things for our community in Norfolk."
The award recognises providers 'whose imagination and passion' have shown 'excellence in providing a high-quality curriculum with excellent student outcomes'.
On the evening, the judges said about the service that: "Norfolk County Council has an amazing ability to do what's right for its community. In life before Covid, 98% of provision was delivered in 200 venues across the region, but by April 2020 everything had changed and all provision moved online. As a result, learners remained connected with education and, crucially, with each other."
We want to say a massive thank you to all of our staff, tutors and learners for their amazing achievements over the year. We couldn't have done it without you!
If you'd like to watch the awards, the stream of the event can be found on the Tes YouTube channel. The Adult and Community Learning Provider of the Year Award is announced 32 minutes into the stream.