Smart savings for start-ups
NatWest Business Builder: Cost structure
27th Apr 2021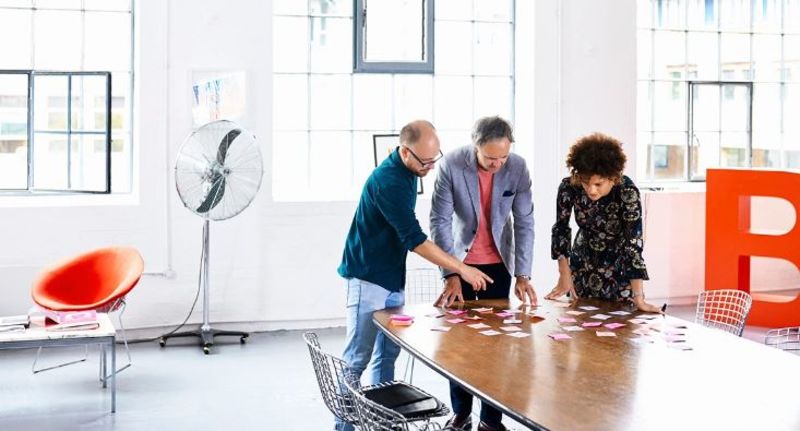 Starting a business is no small feat, and in the first year every penny matters. We look at practical economies SMEs can make to keep their budgets in check and survive that challenging first year.
It costs an average of £27,520 to set up a business in the UK, according to a recent survey of 850 new companies. Nearly half of these entrepreneurs used their own savings, and almost a quarter had help from friends and family. That's quite a financial – and personal – investment.
But with careful planning and thinking outside the box, business leaders can slash those costs dramatically.
Here are a few ways you can save cash in that all-important first 12 months.
Choose your location carefully
Much of your spend on premises, staff and suppliers depends where in the UK you are. The average London business spends around £30,000 just on admin during its first year, but head to Wales and you could pay just a quarter of that. The cheapest place to launch a business in England is Yorkshire, where average first year costs for start-ups are £11,454.
Refurb's the word
It might be tempting to kit all your team out with the latest tech but refurbished computers, tablets and phones can give you the same quality for a fraction of the price. "Technology moves so fast that it can be hugely expensive to invest in new kit that could be outdated in six months," says Geoff Wightwick of accountant RSM UK. "But cheaper alternatives are out there. Look for those low-cost options in everything you do. It's not just tech – keep a lookout for businesses moving premises, which will often be offering unwanted office furniture cheaply, or even free."
"People tend to note down utilities as a fixed cost. But [you'd] be amazed at how much you could save by paying a little attention"
Jason Smith, founder, Business Electricity Prices
Conserve your energy
"People tend to note down utilities as a fixed cost," says Jason Smith, founder of advice website Business Electricity Prices. "But [you'd] be amazed at how much you could save by paying a little attention."
This is particularly true if you're taking over a premises. "New tenants get put on 'deemed rates', which is the second highest tariff out there," says Smith, "and many businesses don't even notice. But you can change it immediately by calling the provider. Also, make sure you shop around at renewal time – some 'automatic, take-no-action' renewals put you on a 30% higher tariff than you were paying before."
Share your space
Finding premises is costly – so why not join a co-working hub? Britain's increasingly flexible working culture means new businesses that previously might have had to commit to a year's rent for a space they could never hope to fill can now hire space one desk at a time, on an ad hoc basis. "It's brilliant," says Jane Porter, who set up her bespoke uniform fashion-design company Studio 104 at Shoreditch co-working hub The Brew. "We started with two of us, and a tiny space to match, and we now have 10 staff and just expanded on the site, and without the tie of a fixed-rent contract. This allows companies to grow and shrink, and pay only for the space they use, when they use it."
And it's not just office space that can be shared. Many universities now have business incubation centres/enterprise hubs, which let units, including industrial spaces, to start-ups at affordable rents – and often offer free mentoring and business advice.
Exchange
If you need to buy something, you don't necessarily have to pay cash for it. If your product or service is of use to, say, the local printer, you could do a deal offering your product in return for producing your promotional materials.
And this can scale up, too. "This is a fantastic way to buy, especially if you're struggling for cash flow," says Chris Kirby, who with business partner Greg Harrand runs the British arm of Australian firm Bartercard. "We have 54,000 global 'Barter cardholders' who sell their services to fellow members for so-called 'trade pounds', which they can then spend on a product from another member. It's a brilliant way of reducing expenditure." The UK franchise only opened up in April, but already has 2,000 members and is aiming for 10 times that by 2020.
Moving to hire ground
Staff are a costly expense – essential in the longer term, but freelancers might suit you better to begin with. "It could be a flexible, cheaper option than staff when you're starting out," says Bobby Lane, start-up consultant at London-based accountants Blick Rothenberg. "You hire them when you need them and, as they're self-employed, you don't need to provide the employee benefits you would for those on permanent contracts. Freelancers are particularly good for short-term, specific projects, but even employing them for more general tasks you avoid long-term fixed costs."
Head in the cloud
There's no longer a need to buy expensive servers and office software – cloud-based software will save you money on hardware and installation, or upgrading in the future.
"It's an obvious money-saver for start-ups and SMEs because it's so much cheaper than setting up a network," says Robert Davies, who runs technology consultancy business Kashiko. "Most providers will offer word processing, spreadsheets, calendars, while cloud-based accounting is secure and can give your accountant real-time access to your figures, which will save you money too. You don't need an email server, you just buy as many addresses as you need, with your own domain name. And the biggest advantage is that if you suffered a fire or a theft, you don't lose any of your files."
But, Lane warns, however you save money, it should not be shorthand for cutting corners. "Every start-up has necessary expenses, and it's foolhardy and short-sighted to cut these out for the sake of saving a few pounds. The key is to plan, evaluate where you need to spend the money and then work out the most cost-effective way to do it."
Further Reading
We have a thriving and diverse community of thousands of entrepreneurs from multiple sectors, backgrounds and skill sets helping you to connect with the right people at the right time. No matter whether you're looking to upskill, get feedback, engage with new people or simply observe, there's something for everyone.
'Want to learn more? Register for NatWest Business Builder to view all of their business development tools. Click HERE'