Seven ways to make your customers feel valued
NatWest Business Builder: Customer Discovery
27th Apr 2021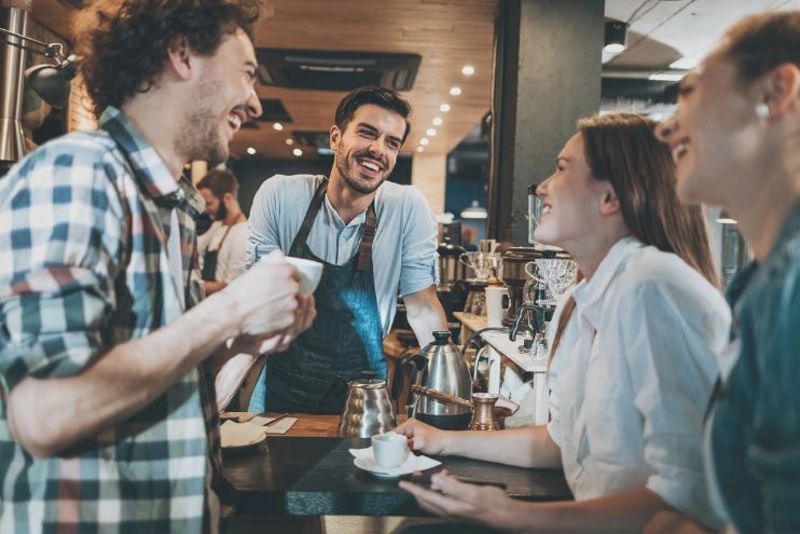 When done well, customer service can help build a strong reputation and loyal customer base. Experts share their top tips on getting it right.
More than seven out of every 10 (71%) UK SMEs believe they deliver strong customer service, a survey by Close Brothers has found. Only 5% saw their customer service as poor, while the rest (24%) saw themselves as neither strong or poor.
While having confidence in your customer service is a good thing, a true marker of whether you are excelling is how valued customers feel. Ultimately, a customer who is valued is more likely to return and even spread the word, helping you to attract new customers and generate more business leads.
Here are a handful of practical ways to provide your customers with a service that makes them feel valued.
1. Speak to customers in their voice
"There's no better way to show you understand your customers than through your tone of voice, branding and marketing," says Lesley Bambridge, founder of marketing consultancy We Mean Business. Bambridge has experience working with household names such as Aquafresh, Lucozade and Ferrero Rocher.
Even the best customer service can be undermined by the wrong tone of voice. The words used or how they're expressed can say a lot about how customers perceive your attitude.
"You need to make yourself a brand that they can rely on and relate to, so don't speak to them as if you're owed the business," Bambridge says.
2. Reward them
Customer loyalty programmes have long been regarded as an effective retention tactic, and not just post-purchase.
Handbag brand Mia Tui gifts new customers 500 points upon signing up, which is worth £5 off their first purchase. They then receive five points for every £1 spent thereafter.
"A scheme like this helps customers to feel like they're part of a club," says Mia Tui's director and founder, Charlotte Jamme.
3. Personalise the purchasing experience
A customer's journey shouldn't end once they've checked out.
"You should personalise wherever possible and make the purchasing journey specific to them," says Bambridge. "Consider following up with offers and bespoke deals, based on their previous purchases."
Of course, you need to ensure you're being GDPR-compliant and that your customers have opted in to receive future correspondence and marketing emails in the first place.
Frozen Indian food supplier Nikasu Foods UK personalises its customers' experience by encouraging them to share recipe ideas post-purchase, which are then reshared by the company online.
4. Thank your customers
Any business hopes that its customers will keep coming back for more, but, for companies just starting out, loyal customers can be hard to acquire.
""You need to make yourself a brand that they can rely on and relate to, so don't speak to customers as if you're owed the business"
Lesley Bambridge, founder, We Mean Business
"One thing that I've done since we started, and it seems to go down really well, is to include a handwritten note with each order, thanking them," says Ruth Oldfield, co-founder of Bolton-based Coffee & Kin, which sells compostable coffee pods, coffee beans and tea, with her sister and their partners. It doesn't matter how many times they've ordered before.
"I truly believe doing this helps customers feel more connected to our family," she says.
5. Welcome feedback
No matter how strong you believe the customer service you're delivering to be, there is likely to be room for improvement. And welcoming feedback is key to this.
"We acknowledge and respond to all feedback we receive [from our customers], whether it's good or bad," says Galyna Nitsetska, founder of Empress Mimi, a lingerie subscription box.
Nitsetska's commitment to valuing her customers is partly down to the difficulties she faced fostering loyalty and engagement for her previous business – an e-commerce website selling luxury workwear for women. Many of the purchases made through the site were one-offs, she says.
6. Be open and honest
If you have the capacity and the resources, it's worth considering replying to any feedback in person, rather than sending a generic response.
Too many SMEs try to replicate the approach of big corporates, which can often be scripted and lack empathy, rather than thinking about how they can deliver more emotive customer experiences, says Nitsetska. You need to be open and honest with your customers, which means admitting when things have gone wrong. Keeping your apologies fresh and sincere can help win them over and encourage them to stick around.
"Being able to scale is important, but if you're at the beginning stages [of building a business], having a loyal customer base is far more crucial, until you get to a place where scaling and atomisation becomes unavoidable," she says.
7. Don't take yourself too seriously
While it's important to deal with any issues promptly and professionally, your customer service shouldn't be seen as a robotic process. It also helps to have a sense of humour now and again, says Bambridge.
"Life's pretty unfunny at times, so if you can do anything to lighten or brighten a customer's day, just do it," she says. "It'll build huge brand affinity and make you one of the ones that stand out."
Further Reading
We have a thriving and diverse community of thousands of entrepreneurs from multiple sectors, backgrounds and skill sets helping you to connect with the right people at the right time. No matter whether you're looking to upskill, get feedback, engage with new people or simply observe, there's something for everyone.
'Want to learn more? Register for NatWest Business Builder to view all of their business development tools. Click HERE'