Boulder Food Group (BFG Partners
Price Bailey Case Study
27th Apr 2021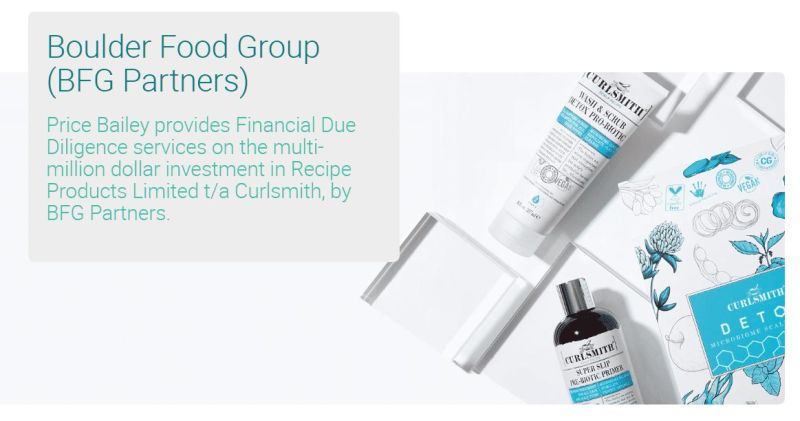 About Boulder Food Group (BFG Partners)
BFG Partners is a venture capital firm that seeks partnerships with early-stage consumer product companies whose products do better for people and the planet. BFG aims to work alongside exceptional entrepreneurs to foster sustainable growth and outperformance in categories across food, beverage and consumer products. In addition to providing portfolio companies with capital, BFG provides teams with the advice needed to make critical decisions and maximize opportunities. This advice spans operational strategy, tactical marketing, channel development, organizational design and capital planning. BFG Partners is based in Boulder, CO and Los Angeles, CA. www.bfgpartners.com/
About Curlsmith
Curlsmith manufactures and supplies premium haircare products. It's premium product lines include Moisture, Scalp Care, Strength and Hair Makeup recipes, each offering complete regimes from shampoos and conditioners to masks, styling products and hair supplements. While targeted at the textured and curly hair care market, the brand now makes products to benefit all hair types.
Launched in 2018, Curlsmith began as an online community, offering haircare content on YouTube and Instagram, providing a space for sharing tips, tricks, and tutorials for managing curls and waves. Fuelled by outreach from their growing following, the founders set out to co-create the next generation of curl care recipes, collaborating closely with their community, influencers and experts to develop everything from the recipes in the initial line-up to the brand name. Today, the brand is synonymous with clean, curly haircare globally.
How our services helped
Our due diligence work's key focus was to gain comfort that the historic quality of earnings was robust and that the strong future projected growth was sustainable as the company planned to explore multiple new sales channels. Given the relatively short trading history and the rapid growth enjoyed to date, our approach meant we could provide support and guidance where necessary. We worked collaboratively with Curlsmith's management team to obtain sufficient information to satisfy our client and make suitable suggestions to support the future sustainability of Curlsmith.
One of the key areas of focus was understanding the impact of COVID-19 on the sales figures compared to previously projected sales and the effect this had on the margins obtained from both retail and direct end-user customers.
We were able to corroborate the assumptions underpinning the forecast projections, gain an in-depth understanding of the required steps to achieve the next milestone and deliver our key findings in a clear, concise, opinion based report.
We had regular calls with our client to keep them fully informed on a near real-time basis as items came to our attention. This meant that the project timelines could be co-ordinated alongside other advisers and lawyers to reach the desired outcome.
Commenting on the deal, Boulder Food Group (BFG Partners) said:
"We thoroughly enjoyed working with Price Bailey on this project. The due diligence report, which focussed on Quality of Earnings and Working Capital, was terrific, being insightful while giving a different perspective on a number of the key areas of focus. Thank you, Price Bailey, for your support and great service helping us to complete this investment."
Get in touch.
Call us on 0800 434 6460