Mae Day Marketing Helps Supplier to Beer Industry Increase Customer Base by 50%, Despite Pandemic
Case Study
23rd Apr 2021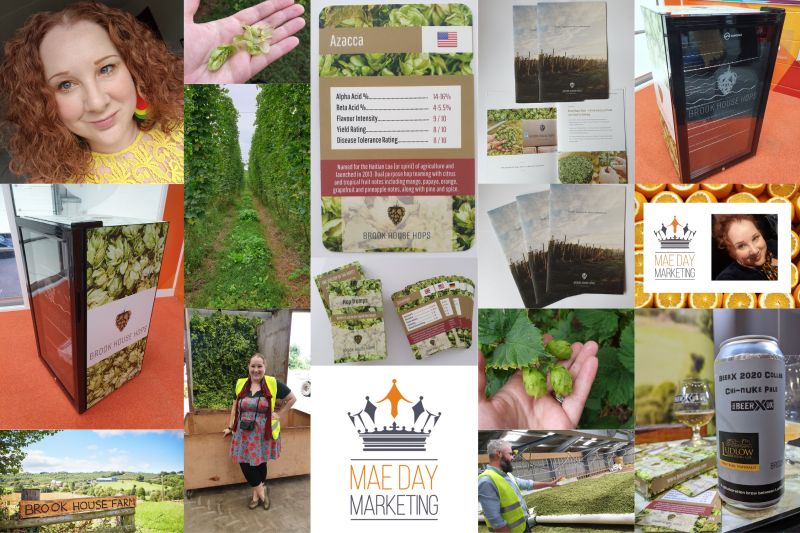 In June 2019, Mae Day Marketing was launched, a consultancy business headed by experienced communications expert, Judi-mae Alderton. Only months before, Brook House Hops had made the bold decision to invest in some ground-breaking marketing support to take their business to the next level. They got in touch via LinkedIn and a conversation started that would change both of their businesses for good.
Brook House Hops contacted Judi-mae because they foresaw that her experience would be beneficial to them as a business. She had enjoyed a marketing career spanning nearly 2 decades working in home improvements, stainless steel manufacture and software development right through to brewing. In fact her last two full time roles had been heading up the marketing function for Norfolk's biggest brewer, Woodforde's Brewery and helping launch reborn heritage brand, Lacons Brewery.
Head of sales and marketing for Brook House Hops, Sebastian Nielsen explains: "We engaged with Judi-mae of Mae Day Marketing initially to run a small consulting exercise and to help with our marketing plan. She was extremely thorough and had some great suggestions on how to structure and promote our business."
But the insight didn't stop there.
Sebastian continues, "After a few weeks, it became obvious that Judi-mae would be a brilliant asset to the Brook House team, so she started managing ALL of our PR and social media activity. As our business and needs grew, she helped us in many other areas too."
After an initial review and a marketing strategy was created, a monthly agreement was put in place which covered a diverse set of marketing activities intended to boost the profile of Brook House Hops: bring in new fans and followers, increase online sales, improve website rankings, increase online engagement and capture the attention of the industry press.
Within 6 weeks, eyes on social media content was up more than 3 fold and engagement across all social media networks was nearly 5 times what it had been before they started working together. Brook House Hops' commercial success went from strength to strength, with new routes for customers to discover their portfolio of UK and international hops.
The working relationship between Mae Day Marketing and Brook House Hops kept growing and 6 months into the agreement it was bolstered and increased in order to dedicate more time towards continuing the growth of the business, particularly to support recent investment and expansion.
Mae Day Marketing helped with creative briefs, copywriting for new brochures, website optimisation, sales process review, e-mail activity and designed sales collaterals to improve their overall communications and customer relationship management. Judi-mae even designed and created a deck of 'Hop Trumps' for an upcoming event, which went down a storm with customers and fans alike!
They were on a roll and teamed up with Paul's Malt to exhibit at the Society of Independent Brewer's BeerX event in Liverpool in March 2020 just as the pandemic broke, using Mae Day to coordinate all of their live social media posts across the couple of days, giving a boost to both brands in the process.
As the pandemic effects kicked in, budgets were put under pressure but the benefits of marketing were really clear so activity continued, maintaining the company ethos of supporting the industry by introducing some unique initiatives and lowering prices.
By the beginning of 2021, Brook House Hops had increased their customer base by an incredible 50%, despite the impact of the pandemic, due to a dedication to sales and marketing activity and innovation.
In the 18 months July 2019 – March 2021, Mae Day Marketing had grown their online following by 71%, increased the reach of online content by 438% and improved engagement levels of social media content by 478%. Over a dozen pieces of national and local press coverage was garnered from PR activity.
Sebastian Nielsen comments "Judi-mae comes highly recommended! Working with Mae Day Marketing was easy and fun and I'd recommend their services to anyone, particularly those starting a new business or moving into a new market / launching new products. Mae Day Marketing's services were invaluable to us.
Mae Day Marketing owner Judi-mae adds "Brook House Hops were my first client and will always have a special place in my heart. Working with them was always exciting and we tried out so many new things with their brand, constantly achieving great results. The skills I have learnt from a lifetime of interest in digital technology and nearly 20 years working in marketing departments really shined for me as I became an independent business owner and I look forward to many more years doing the same for other ambitious businesses."
To get in touch with Mae Day Marketing, visit them at www.maeday.co.uk, call Judi-mae on 07828 852448 or find them on social media. To find out more about owner Judi-mae, you can read about her varied and award winning entire career history here: https://maeday.co.uk/about.
Facebook: https://www.facebook.com/maedaymarketing
Instagram: https://www.instagram.com/maedaymarketing/
LinkedIn, business: https://www.linkedin.com/company/35647103
LinkedIn, personal: https://www.linkedin.com/in/judimaegaler
We think you may also find this interesting: RESTART Festival | The Big Drop Brewery Story