How to create the right mood
NatWest Business Builder: The Importance of Mindset
26th Apr 2021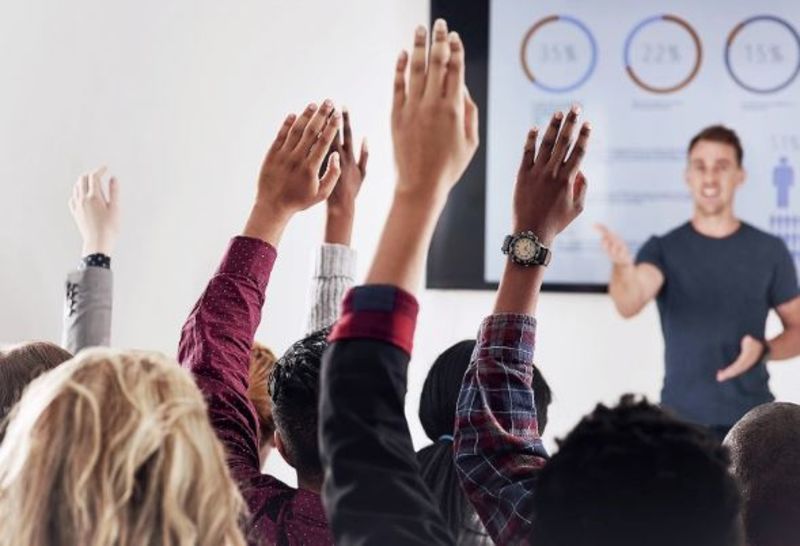 Businesses are at their most productive when employee engagement levels are high. We've tracked down three experts to share their advice on improving relations.
Engaging employees and ensuring they're emotionally invested in their job is a careful balancing act between getting the best out of them and creating a working environment where they feel valued and are rewarded.
According to a survey of more than 4,600 workers by Qualtrics Pulse, the UK lags behind the rest of the world when it comes to employee engagement. Only 48% of workers considered themselves engaged and just over a third (39%) said they looked forward to going to work most or some of the time.
The survey also revealed that 17% were looking to leave their jobs in the next two years. The reasons cited include stress due to workload and not feeling supported or being acknowledged by their employer.
Instil confidence
One of the reasons the respondents to the survey gave for looking forward to work is having confidence in the senior leadership team. Instilling this confidence comes from creating a leadership culture that emphasises continuous communication, learning and feedback, says Guv Jassal, a director at Frank Recruitment Group.
"Rather than wait for the yearly appraisal, build feedback and coaching into your daily interactions," says Jassal. "This can help employees learn skills faster and feel engaged and committed to their goals. It'll also reduce confusion around expectations and current performance, preventing any possible misunderstandings that could create a negative working environment."
Frank Recruitment Group's own philosophy of having an open-door approach to providing feedback has led to 82% of the team feeling that their line manager provides them with the relevant feedback they need to learn from.
Identify the talent
When it comes to younger workers, the Qualtrics Pulse survey found that they would most likely stick around if they had the opportunity to progress at a company.
Jassal says that it's important not to reserve coaching for senior employees. If people are new to the company or have changed roles, then they might need a bit more guidance, but once they're settled in you should assess their strong points. "You should be ready to identify emerging leaders and those who have the potential to be future managers. This way, you'll not only engage your employees but increase the chances of retaining your top talent as well," he adds.
By nurturing the talent in your business, you can better position your company to scale and grow. Promoting a more motivating and energised working environment, in which the leadership team maximises employees' potential, will also help to attract and recruit more talent in the future, says Jassal.
Improve performance
While you want the best for your business, it's important to remember that employees are going to make mistakes, regardless of how much coaching they receive, says Stephen Walker, co-founder of Motivation Matters, a consultancy helping small businesses to improve productivity, employee engagement and profitability.
"While you should definitely praise when appropriate, and loudly, you should also be quietly discussing failure to make things better next time," says Walker. "Perhaps give them a word of advice, but certainly don't micro-manage them."
"Build feedback and coaching into your daily interactions. This can help employees learn skills faster and feel engaged and committed to their goals"
Guv Jassal, director, Frank Recruitment Group
Focusing too much on errors made could crush confidence and lead to lower morale and engagement levels. However, as a business owner, it's also your responsibility to design processes and systems so that employees can learn from their mistakes and to minimise the risk of the mistakes being made again and again.
"There is always room for improvement. When positively presented, it can help employees to grow both professionally and personally," says Jassal.
Motivating factors
In order to truly understand not just how engaged employees are but also how they are engaged, it's vital that you monitor their motivation. "This could be done through a number of initiatives, such as surveys – the results of which could then be discussed by the senior management team and steps then taken to improve engagement," says Keith Bevan, a director at Suresite, a Preston-based risk management firm that can provide small businesses with a range of training.
Valuing the opinions of your staff is a no-brainer. "They're the people doing the processes, so why wouldn't you empower them to improve the processes?" asks Walker.
Open to suggestion
The workers questioned for the Qualtrics Pulse research said that one condition that would greatly influence whether they decided to stay at a firm was whether their employer was good at striking the right work-life balance.
According to Walker, you shouldn't be over-rigid or stringent when it comes to areas such as managing holidays. "If it's not going to impact on the business or costs negatively, then you should be flexible and allocate employees the holidays they want," he says.
Bevan agrees: "You need to care about your employees as individuals and acknowledge that there's life outside of work."
Be transparent
Ultimately, you should be showing respect to your staff. If employees feel like they're not being respected then they're likely to put less effort into their work and be less engaged.
While employees do have to earn respect to some degree, you can help the cause by being transparent, says Bevan. This means being open about the company's performance, including turnover, and honest about any potential business challenges, such as future recruitment plans, which might affect employee workload or position within the company.
Further Reading
Join the Business Builder Facebook Community here
'Want to learn more? Register for NatWest Business Builder to view all of their business development tools. Click HERE'