Welcome to NatWest Business Builder
'A free, virtual tool to support early-stage and established businesses'
26th Apr 2021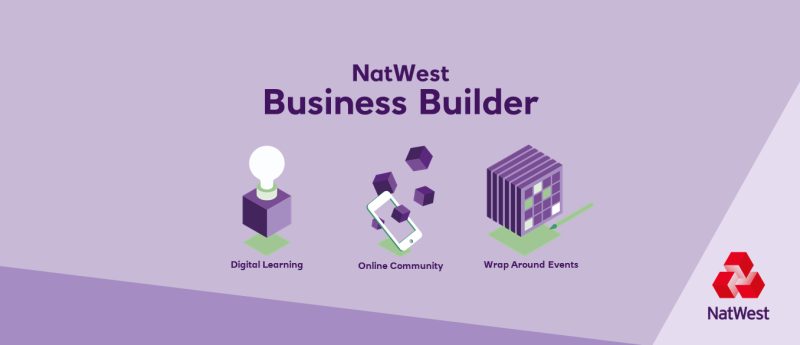 Business Builder is a completely free online tool which is entirely self-serve and can be accessed 24/7 through the dedicated online portal. Designed to support entrepreneurs and business owners to upskill and develop themselves and their business at a time and pace that suits them. Users can access a blended programme of support consisting of three key pillars;
· Digital Learning - A growing library of action-focused digital learning, catering for a wide range of business needs and learning styles, so individuals can consume the most relevant learning to them.
· Wrap-Around Events – Supporting users to expand their local and national network through our dedicated Facebook community and access peer to peer support, update and thought leadership relevant to them.
· Online Community - Enhancing the digital learning, our expert team run a calendar of immersive, online events and workshops to upskill users, bring the community together and facilitate key areas of development.
Who's It For?
Business Builder has been developed to support businesses and entrepreneurs at all stages (whether just starting out or an established business looking to make a change). It's completely free and you don't even have to be a NatWest customer to join.
What can I use Business Builder for?
· Idea validation - helping you to explore and validate new business ideas or pivot existing ones
· Business essentials – giving you the knowledge, tools & techniques to put your business processes in place
· Entrepreneur development – helping you to develop yourself at the same time as your business
· Growth strategies – supporting you to put sustainable growth plans in place, identifying risks and opportunities
What to expect from our Digital Learning…?
We know time is precious and so straight after registering, you'll be able to access to a growing library of learning modules, covering a range of topics from Revenue Streams, Customer Segments through to Self-Awareness and Mindset.
Each module is made up of several video chapters, giving users some theory, practical tools and real-life experience from business owners who have been there, done it and bought the t-shirt.
If you want to try before you buy, three Business Builder modules are available to trial within your Canvas page!
Learn alongside like-minded Business Owners…
Business Builder events are designed to support and challenge you to develop the right foundations for your business; whether that's how to write a great pitch, how to define your Business Model or navigate through a changing environment.
Each 60-minute event is tailored to meet a specific business need, offering you an opportunity to upskill in the company of other like-minded business owners, share experiences, and work through individual and group exercises to implement the learning into your own business.
Being an Entrepreneur can be a lonely place…
We have a thriving and diverse community of thousands of entrepreneurs from multiple sectors, backgrounds and skill sets helping you to connect with the right people at the right time. No matter whether you're looking to upskill, get feedback, engage with new people or simply observe, there's something for everyone.
How do I engage?
Business Builder is completely self-serve, so there is no right or wrong way to engage. What matters most is that you upskill in a way that makes you feel comfortable and in control.
As we've said, registration is completely free and takes just a few seconds. We'd always recommend signing up here, checking out what's on offer on our Digital Learning portal, and checking out our Events Calendar and Online Community from there!
Where can I get more information?
You can view three of the modules here on The Norfolk Knowledge Hub
Remember you can trial the Business Builder digital learning modules via your canvas page but to find out more, you can visit the NatWest Business Banking Website here.
If you have a specific question, please message the Business Builder Team at businessbuilder@natwest.com
Click here to sign up
'Want to learn more? Register for NatWest Business Builder to view all of their business development tools. Click HERE'