Lockdown 3: What if an Employee Cannot Work from Home?
Steeles Law Solicitors
23rd Apr 2021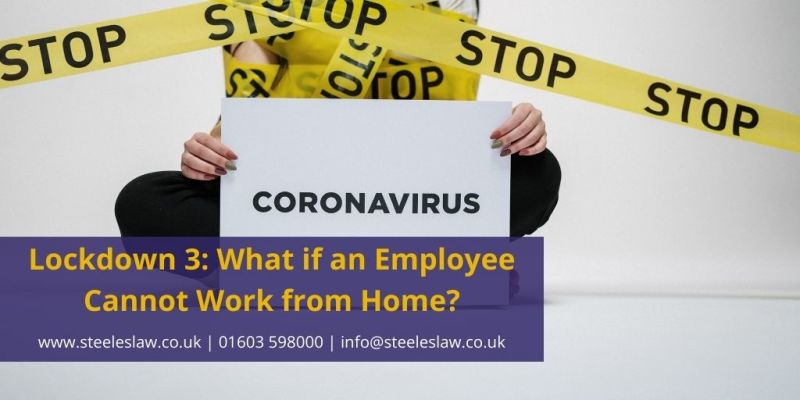 As the Government announced plans for a third National Lockdown throughout England, businesses will be reassessing their work from home procedures as several businesses will need to remain open.
However, there will be employees that cannot attend their place of work or work from home who are classed as vulnerable and will now be receiving notification from the NHS to shield.
Employment Lawyer, Denise Traube has already had several questions raised from concerned employees and HR managers requesting guidance on the extra steps they should take for anyone in their workforce who is vulnerable to coronavirus, are being advised to shield or have childcare responsibilities but cannot work from home.
Employees who must Shield
If an employer is unable to find an alternative role that is suitable for the employee to undertake from home, then the employee should not return to work until it is safe to do so. In these circumstances the employer has two options, to put the employee on furlough leave or for the employee to go on sick leave and claim either company sick pay (if entitled to company sick pay) or statutory sick pay. Other finance options may be available to the employee: Test and Trace Support Payment, New Style Employment and Support Allowance, Universal Credit or Pension Credit.
If the employee is not entitled to furlough leave and must go on sick leave, a shielding note or letter from their doctor or health authority advising them to shield is sufficient for them to claim statutory sick pay.
An employer must take a vulnerable employee extremely seriously. Amongst other claims, an employer could be at risk of discrimination claims if an employee is deemed to have a disability under the Equality Act and they are put at a disadvantage because of their disability.
Childcare responsibilities
In the government's latest announcement, the schools are closed until at least Monday 15 February 2020 (which the exception of those children's parents who are essential workers). This does cause problems with parents who cannot work from home but have no childcare.
Therefore, an employer has the following options:
Furlough Leave – this is available in several situations including people who must stay home because they have childcare or other caring responsibilities resulting from coronavirus.
Flexible working – an employer may be able to agree with an employee that they can work more flexibly at times to suit the employee or agree to a temporary reduction in hours.
Unpaid leave – if an employee is unable to be furloughed or work flexibly, they could seek unpaid leave.
In both cases of shielding and childcare issues, an employer may prefer to agree to furlough leave with the employee. There is no disadvantage to the employer and is more advantageous to the employee and their wellbeing.
As social media platforms lit up after the announcement last night, Monday 5th January, Martin Lewis tweeted 'If you cannot go to work due to childcare responsibilities, then we have it confirmed this is a reason you can be furloughed. It is desirable, though not compulsory for your employer to do it'. Denise commented on the statement saying 'I agree that employers and employees should work together to find a mutually beneficial way forward in these unprecedented times to protect staff who need to shield. Using the furlough option rather than enforcing sick pay will not affect the payments from the company but will support vulnerable employees creating goodwill in the workplace'.
In December, Rishi Sunak, the Chancellor of the exchequer announced that the government's furlough scheme would be extended until 30 April 2021 and an eligible person's employer can claim 80% of an employee's usual salary up to a maximum of £2,500 per month. For further information, you can visit the government's website here: https://www.gov.uk/government/news/chancellor-extends-furlough-and-loan-schemes
If you would have further questions regarding any of the points raised in our article, or you wish to speak to a member of the Employment team, please do not hesitate to call 01603 598000 or email employment@steeleslaw.co.uk. Appointments are available at our Norwich, Diss and London offices or your offices by appointment.
*The information provided in this article is designed to provide useful information on the subject, not to provide specific legal advice.
We think you may also find this interesting: Returning to Work